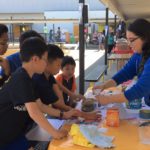 Youth Science Center
The Youth Science Center, a non-profit organization, is searching for a Social Media Marketing Specialist. This individual is expected to be extremely knowledgeable of all social media including, Facebook, Twitter, Instagram, and Linked-in. Exceptional English writing skills are essential as well as creative marketing content to effectively engage audiences. Individual must be a go-getter and develop entrepreneurial strategies to leverage limited resources to make a big impact. Must be a mature individual capable of working in a team environment.
Essential Duties/Responsibilities
Responsible for social media reporting and analysis and communicating results to upper management.
Participates in the development and implementation of social media strategy and content, ensuring alignment with Youth Science Cener goals.
Proactively seeks and disseminates content from the various networks that could be used for marketing, product development, business development, etc.
Keeps current of social media and industry trends.
Partners with marketing, merchandising, event planning to assist in campaign and content development; maintains close relationships with upper management.
Schedules daily content and promotional posts on all social media channels.
Works flexible hours to assist in achieving efficient coverage monitoring various sites.
Minimum Qualification/Skills
At least 2 years of direct social media experience with proven track record preferably in the marketing industry.
Understanding of all social platforms, including emerging platforms.
Highly motivated problem-solver with sound judgement and business acumen.