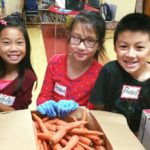 Website YMCA of San Francisco
The Chinatown YMCA partners with the SF-Marin Food Bank to distribute healthy food to 180 households each week. We rely on individual and group volunteers to help staff the pantry each week so that we may help these families in need. Started in April 2015, the food pantry program at the Chinatown Y has grown from serving 80 families to over 180 each week with the hopes to grow even bigger to meet the needs of our community.
The Chinatown YMCA food pantry occurs every Thursday between 3:00 pm and 6:00 pm.