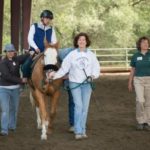 Website Xenophon Therapeutic Riding Center
Xenophon Therapeutic Riding Center is a labor of love. Volunteers have logged over 10,000 hours since the program's inception. Volunteers:
work with students in the day to day program
care for the horses
manage and run fundraisers
landscape and repair the facility
serve on the board of directors
What does a volunteer do? Most of our volunteers help out with lessons. Typically, as an instructor teaches the lesson, one volunteer may lead the horse, while one or two volunteers walk along side. Some volunteers groom and prepare the horses for lessons. If I were to volunteer, how much time would it take? It takes three to four hours per session. Our sessions run Monday thru Thursday 2:15 to 5:45 and Saturdays 8:00 to 11:30 every 7 weeks. We ask that you commit to one day a week, however, we do understand that other things come up and you will not be able to make each session. All we ask is that you inform us if you are not able to make it so we can be sure and have enough people to assist.
Do I need to know about horses?
It's helpful, but not necessary. You can learn as you go – it's a great way to learn horsemanship. If you have experience with horses, we'll need to introduce you to the special techniques of therapeutic riding. Read our handbook to learn more.
If I don't want to work with the horses, is there anything else I could do?
Yes, there are other opportunities. Right now, we need help with fundraising and event planning. We also would love some help with landscaping and property maintenance.
You must be at least 14 years old to volunteer.