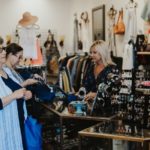 Website Working Wardrobes
Are you a fashion-savvy person with a heart to help? The Working Wardrobes Hanger Boutique in Tustin is staffed by dedicated, enthusiastic, fun-loving retail volunteers with a strong sense of style and a desire to give back to their community. $0.87 of every dollar in sales benefits Working Wardrobes' programs and services! Your involvement is vital to the thousands of men, women, young adults and veterans we help to achieve self-sufficiency through meaningful employment.
The Benefits
Put your passion for fashion to work with customers.
Build your social network.
Learn techniques in retail management, fashion merchandising and marketing.
Help transform lives through the services of Working Wardrobes.
Responsibilities
Work as a team player to ensure each customer receives the best service possible.
Perform daily department maintenance tasks including stock work, re-merchandising, display, price markdowns, merchandise transfers and light cleaning.
Greet customers in a timely, professional and engaging manner.
Qualifications
Must have a friendly and helpful attitude.
Must be able to stand for a period of time.
Ability to develop relationships with customers and coworkers.
Knowledgeable and enthusiastic about fashion.
Ability to positively and proactively handle customer concerns and prioritize multiple tasks in a fast-paced environment.
Excellent communication and interpersonal skills.
High level of ownership, accountability and initiative.
Customer service, cash register experience and a great fashion sense are a plus.
Please contact volunteer@workingwardrobes.org to volunteer or for more details.
You must be at least 16 years old and minors must be accompanied by an adult.