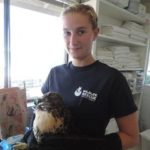 Website Wildlife Rescue Sonoma County
Thank you for your interest in Sonoma County Wildlife Rescue's Junior Volunteer Program. This program is designed as an educational experience for children and their parents to learn more about wildlife and the environment. Children must be 13 years or older to volunteer at the wildlife center and parents are required to support their child by participating together. Once a child has learned some skills and can work independently, parents may drop off their child. This is only acceptable on a case-by-case basis.
Please Note: Junior Volunteers (ages 13-17) are not permitted to handle or work directly with wildlife. However, they can work to support all the efforts that go into caring for animals.
​Children who are looking for a hands-on experience with animals, are ENCOURAGED to register in our Predator Exclusion Education Program (PEEP). This is a fee-based program which provides vital support for our charity wildlife rescue work. Scholarships are available.
New Volunteer Process
All new junior volunteers and a parent or guardian need to attend the Annual Volunteer Orientation class that takes place the first Saturday in January annually. It gives you a chance to consider if Sonoma County Wildlife Rescue is the right organization for you. If you are going to join the PEEP program, you will need to take a PEEP class. If you would like to work around wildlife, you must attend the Policies and Regulations and Intro to Wildlife Rehabilitation Classes (these classes will take place at our Annual Orientation in January). All Volunteer Commitments are long term (12 months or more) and require 4 hours a week.  To sign up for our annual class, please call our office at 707-992-0274 and be prepared to fill out a volunteer application which can be located HERE.
​
Junior Volunteer Programs
PEEP Animal Care: Children and their parents feed, water, clean up after, and socialize with our domestic animal ambassadors in our Predator Prevention and Educational Barnyard program. Currently these are cats, chickens, and goats. This is considered an extra-curricular activity and has a required fee of $300. The curriculum and customized lesson plans are designed for a child to attend once a week for a 2-hour session. Each registration lasts for 6 months.
Foster Care: Children and their parents work together to care for a litter of orphaned wildlife infants. This includes bottle feeding, weaning to a natural diet, and providing appropriate enclosures with age appropriate enrichment for the animals. All care and progress of the animals must be charted and turned in when the animals come back to the center.  There is no cuddling or socializing of baby wild animals.This care is done at the family's home. The parent is ultimately responsible for the welfare of the foster animals.
Community Events: Several times a year SCWR participates in events throughout Sonoma County. This is an excellent opportunity for Junior Volunteers to get involved in the community by helping at our education booths passing out fliers, signing up new volunteers and school presentations, and talking to the public about what we do.
Education Team: Junior Volunteers play an important role as part of our Education Team. We love Junior docents who help educate the public about native wildlife and how to live better with wildlife.
Wildlife Community: Junior Volunteers help feed and create a natural environment for the wildlife that temporarily stays in the Wildlife Community during their rehabilitation process. This commitment MUST be done with a parent. Junior Volunteers also work with our residents in the Education Exhibit area. This gives them a chance to help the animals in the Wildlife Community, while learning more about the wildlife in Sonoma County. Junior volunteers are not permitted inside wildlife enclosures, so this is a parent/child team effort.
Other: Junior Volunteers also help with some administrative duties such as mail outs, and computer activities, spring-cleaning parties, The Human Race, and artwork for the organization's marketing department.