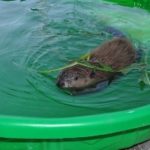 Website Wildlife Care Association
Want to help wildlife, but aren't able to get to our facility on a regular basis? Want to be able to do some good from home? Hotline specialist is the position for you!
Hotline Volunteers are often the first contact the public has with Wildlife Care Association. Hotline Volunteers periodically check our messaging system and return calls from people who found an injured animal or have an animal concern.
Hotline Specialists should be comfortable speaking to people on the phone and be able to communicate efficiently and clearly. This position is open to volunteers who are 16 years or older. Prior knowledge or experience with wildlife in the greater Sacramento area is helpful, but not required. You will be given all the training and resources you need. New volunteers will come to the facility for orientation, and for their first two hotline shifts. After that you can answer the hotline anywhere you have access to a phone!
Expected minimum time commitment is three hours weekly (or biweekly in the off season). Shifts are 9am-12pm, 12-3pm, 3-6pm, and 6-9pm.