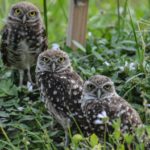 Website Wildlife Care Association
Want to help the Wildlife Care Association?
Although our volunteers must be 16 years old to volunteer at the facility, they must be 18 years old to handle any of the animals. Volunteers under 18 will help with housekeeping tasks, special projects, cleaning/repairing animal supplies, our intake of animals which consists of taking information from the public or our Hotline which is answering phone calls from the public.
Currently all of our volunteer orientations have been cancelled until further notice due to the pandemic, but we are holding one-on-one trainings.
For now, due to the pandemic, volunteers who help out at the building must commit to a weekly schedule at a minimum of 4 hours/week. These hours may vary in the future.
We also have at-home projects for those younger than 16 (or for anyone who would like to help out without leaving the comfort of their home).