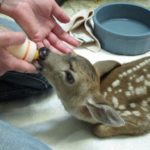 Website WildCare
Our wildlife hospital cares for nearly 4,000 wild animals a year, from as many as 200 different species. We provide ongoing care for our patients seven days a week, fifty-two weeks a year with a dedicated team of staff and more than 300 volunteers.
Our goal? To restore our wild patients to full health so that they may be released safely back to their natural habitats.
Volunteers learn species identification, hygiene and safety precautions and protocols, proper diet and food preparation, physical therapy regimens, and proper handling techniques. Hospital staff and volunteers work to provide comprehensive diagnoses and treatments for our patients utilizing x-rays, blood work and more. Everyone works together to accommodate the feeding, cleaning and medication requirements of each patient.
Volunteers must be 15 years or older (see our Young Adult Community Service Program for middle school students ages 12 – 14.)
Volunteers age 15 – 17 will be part of our WildCare Student Volunteer Program.
All volunteers must attend a Volunteer Orientation. Please note: There is a non-refundable $15 registration fee for this orientation. If, after attending orientation, you decide to volunteer, you will pay the volunteer training fee of $65, for a total of $80. This fee includes a year's membership to WildCare and materials for the training classes. Partial scholarships available on a case by case basis. No one will be turned away for lack of funds.
All volunteers must fill out, sign, and turn in all required documents.
New incoming volunteers must attend a shadowing day and four required classes (a full 10 hours) of hands-on training for the Wildlife Hospital.
Volunteers 18 and over must commit to one 4-hour shift a week. Volunteers ages 15-17 must commit to one shift a week between 1.5 to 4-hours long (hours are adjusted during school). The minimum commitment for new hospital volunteers is from March through the end of WildCare's "Baby Season" (usually ending late October).
Active volunteers must provide proof of a current tetanus vaccination.
Volunteers should be prepared to have fun, get dirty, follow instructions for safe and effective animal care, and LEARN A LOT!
All upcoming orientations require pre-registration. If you have any remaining questions, contact Kelle Kacmarcik, Director of Volunteer Services at volunteer@discoverwildcare.org or call 415-453-1000 x21 for more information.