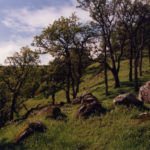 Website Walnut Creek Open Space Foundation
We grow local native plants for use in habitat restoration projects in the Walnut Creek Open Space.
You will be propagating, weeding, and potting up (transplanting into larger pots), and doing general nursery chores like keeping everything organized.
This is an ongoing group that meets the second Monday of the month. You do not have to commit to being there every month.
Our organization also plants what we grow in our nursery in our restoration projects in Lime Ridge and Shell Ridge. Restoration groups meet regularly on Tuesdays and Saturdays and occasionally at other times. See separate listings for details.