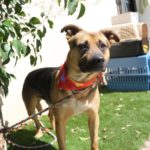 Website Volunteers in Defense of Animals
We are an animal adoption center needing 1-2 new photographer volunteers who can come 1-2 days a week (3 at maximum) who own one of the following phones:
iPhone XR
iPhone X
iPhone 11
iPhone 11 PRO
iPhone 11 PRO MAX
and the ability to use portrait mode. If you have not taken photos of animals before, we will train you!! Each time you come in, you may be using between 2-4 hours of time to photograph new animals who come in and need photos taken to be posted online! Your help is incredibly important for our mission.
We are currently limiting volunteers on premises, and we take adoptions and fosters by appointment only – we also require that masks are worn. We also have a bathroom for hand washing and hand sanitizer available at all times. You will NOT have to do anything further than take animals out of their kennels / enclosures for photos!
Please send in an inquiry to kimchenvidarescue@gmail.com with subject "iPhone Photographers". Thank you!!
REQUIREMENTS:
Must be at least 15
At least 1-2 days per week, sometimes 3. Each day 2-4 hours each, more if you're comfortable/if needed.
Must have a phone as listed above.