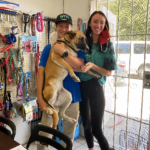 Website Volunteers in Defense of Animals
We are searching for people open to helping us out by making copies of different papers we need frequently! We have to get new copies almost weekly, so we are hoping to find a "sponsor" open/willing to help us fund those copies and get them done and delivered at the beginning of every week!!
These efforts help us remain successful and keep us doing things that are super important while giving you an opportunity to safely help us during this time!
Please contact Kim at 6266768037 if you are interested in helping us with this 🙂 even if you can just make 100 copies once a month, that would be a massive help for us!!!
We had over 100 adoptions last month in May and are looking like we'll be having more this month! We are of course incredibly selective with our homes!