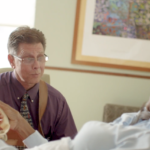 Website VITAS Healthcare of San Gabriel
Do you have the talent to help a patient at the end of life? Sometimes what a hospice patient needs most is a way to express feelings: to talk about fears, acknowledge regrets, find joy.
VITAS Innovative Hospice Care of program name is looking for musical artists to volunteer to help terminally ill patients and their families express themselves. Artists go into nursing homes and assisted living communities to play a musical instrument, help a patient sing, and share their talents in therapeutic ways.
VITAS provides training on how to work with people at the end of life. The artist provides talent, compassion and time. Assignments are made according to the volunteer's time and location.
REQUIREMENTS:
Background Check
Must be at least 16
2 hours a week