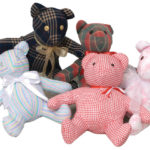 Website VITAS Healthcare of L.A. & Ventura County
VITAS Healthcare(r) is looking for people who love to sew and who are able to share their skills with hospice patients and families.
A Memory Bear or Memory Pillow are sewn by a volunteer with compassion and love, is a forever friend who can ease a hurting heart after the death of a VITAS hospice patient.
Sewn from a favorite pair of jeans, a pullover top, dress, bathrobe or nightgown, a Memory Bear or Memory Pillow may recall the closeness of a loved one, bring a smile to someone in distress, or offer a sense of security to a child who feels alone after the loss of a parent or sibling.
This is a great opportunity for you to give back to the community. By taking time out of your busy work week you can make the biggest difference in another's life.
For more information about VITAS visit VITAS.com.
REQUIREMENTS:
Must be at least 18
Orientation or Training