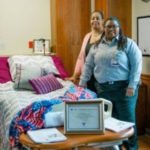 Website VITAS Healthcare of East Bay
VITAS is looking for kind and caring people to help terminally ill patients and their families. Friendly visits, simple errands, providing a listening ear and the gift of friendship at a crucial time can make a real difference in another's life. Yours, too!
Other VITAS volunteer activities: relief care (sit with a patient while the caregiver takes a break); friendly visits to patients and their families at home or in a nursing home; driving a patient or family member to appointments; accompanying a patient to a church function, wedding, beauty shop, play, ballgame; run errands to the grocery store, drug store, post office; assist with programs and special events.
REQUIREMENTS: A background check, must be at least 15, attend orientation or training, works 2-4 hours a week