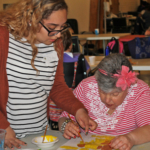 Villa Esperanza Services
Villa Esperanza Services serves intellectually/developmentally disabled individuals in Los Angeles and Ventura counties. While our services are currently being provided remotely, Villa is already looking towards a future where our adults and students will return to limited, in-person programs. In order to do this safely, our programs need over 200 personal protective screens made that can be placed at each client's work station.
A blue print for these screens has already been made and will require working with PVC pipe and a clear vinyl material. Construction is simple and can be done at home. Volunteers will need to be capable of delivering finished screens to Villa's main office in Pasadena, CA.
Contact the office for the necessary blue print.