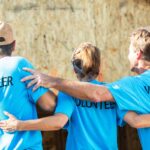 Ventura Visitors & Convention Bureau
We are looking for some "Star Volunteers" to add to our incredible volunteer team!
Our Star Volunteers enhance the visitor experience and promote the City of Ventura by providing information on the accommodations and attractions in the city, as well as points of interest in the region.
We are currently looking for week-end support and on-call volunteers. Come and join our team!
Orientation or Training
3 hrs/week
6 month commitment