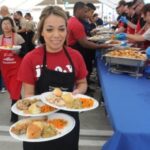 Website Ventura County Rescue Mission
Volunteers bring essential services to our neighbors in need. Each year, thousands of people offer their time, talent, and goodness of heart to help make a difference in the lives of those who are hurting and the homeless.
Our regular volunteer opportunities involve serving a lunch or dinner meal to our guests, Monday-Friday. These shifts include helping to prepare and set-up our dining room, assist the men in our culinary arts program with meal preparation, meal service, and clean-up.
Requirements:
Must be at least 10 (Volunteer under the age of 18 must be accompanied with a parent/guardian)
Must attend volunteer orientation and receive training