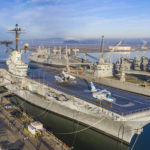 Website USS Hornet Sea, Air & Space Museum
The USS Hornet Sea, Air & Space Museum depends upon the service of a dedicated volunteer crew for success. Our volunteers become shipmates who actively participate in the staffing and operation of this historic aircraft carrier.
Become part of the ongoing history and legacy of the aircraft carrier USS Hornet, an American icon of World War II, the Vietnam War, and the Apollo 11 & Apollo 12 recovery missions! Help preserve the ship and her history by sharing your time, skills, experience, labor, and/or knowledge!
Please note that many volunteer positions require walking, climbing ship's ladders (stairs), and maneuvering tight passageways.
Anyone can apply to be a volunteer at the USS Hornet Sea, Air & Space Museum! We prefer ages 18 and older but do accept younger volunteers in specific volunteer positions such as our Docent, Education, and Collections programs depending on interest and availability. Military service is appreciated but not required–our volunteers have diverse skill sets and come from all walks of life. All applicants must pass a background check to serve as a volunteer.
Volunteers at the Museum can participate in as many Volunteer Divisions as they like so. Some divisions, such as the Docents and Safety & Security, require minimum hours to to stay listed as an "active volunteer" within those divisions whereas others  such as Events, are better suited for those who want to volunteer but won't be able to set up a regular schedule.