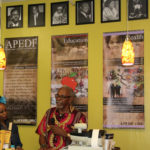 Website Uhuru Furniture & Collectibles
Uhuru Furniture & Collectibles has ongoing volunteer opportunities DAILY. So if you have school program or court-ordered community service hours, or you simply want to help advance a great cause, call us! Whether you need 1 hour or 1,000 hours, we'll help you make your deadline.
Volunteer Opportunities include:
* postering or distributing flyers
* painting furniture or recovering dining chairs
* welcoming and helping customers
* cleaning furniture, organizing home decor on shelves
* posting our inventory to OfferUp and LetGo
* graphic design
* lifting and moving furniture
All volunteer opportunities fall within our safety protocols, ensuring masks and hand sanitizer are used and that social distancing is followed, for everyone's safety.
Uhuru Furniture & Collectibles is an economic development project of the African People's Education and Defense Fund (APEDF). APEDF strives to develop and institutionalize programs to defend the human and civil rights of the African community and the address the grave disparities in education, health, health care and economic development faced by the African community. More info @ www.apedf.org
Contact: apedf.volunteer@yahoo.com 510-763-3342 Uhuru Furniture & Collectibles
3742 Grand Ave Oakland, CA 94610