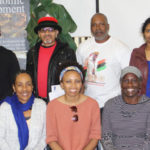 Website Uhuru Furniture & Collectibles
Uhuru Furniture & Collectibles has ongoing volunteer opportunities DAILY.
Volunteer Opportunities include:
* postering
* leafleting
* door hanging
* phone/sales in store
* packing/unpacking donations
* computer marketing
* graphics design
* moving furniture
Uhuru Furniture & Collectibles is an economic development project of the African People's Education and Defense Fund (APEDF). APEDF strives to develop and institutionalize programs to defend the human and civil rights of the African community and the address the grave disparities in education, health, health care and economic development faced by the African community.