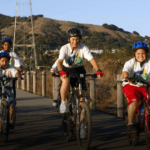 Website Trips For Kids Marin
Looking for enthusiastic cyclists that love interacting with youth to assist our staff Ride Leaders!
Requirements:Must be at least 16 years of age, have proficient biking skills, provide your own bike, gear and transport yourself to the designated trailhead.
Must have in person meeting with Program Director prior to joining any Trips for Kids Marin youth programs.​
LiveScan criminal background check may be requested.