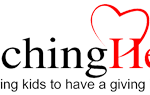 Website Touching Heart
Quick Overview: Touching Heart needs graphic designers to help us create graphics that will be used on www.touchingheart.com, various social media platforms, on marketing and promotional materials, event signage.
Mission or Broader Program Description: Touching Heart's mission is to fill young hearts with love and compassion for one another. We believe that children can leave an imprint on the world in significant ways when they are taught just how impactful their thoughts and actions are.
Impact: Your graphic design skills will help us to enlighten, empower, and educate children about how they can experience the true joy that comes from helping others in need.
Volunteer Roles and Responsibilities: Short assignments to create graphic designs for Touching Heart events to be posted on the Web Site and Facebook. Examples of postings can be found at https://touchingheart.com/events/, and https://www.facebook.com/TouchingHeart.VA/
Accessibility: This is a virtual opportunity! Anyone is welcome to participate!