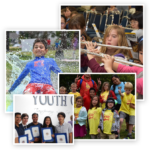 Website The Youth Center
The Mission of The Youth Center is to transform children's lives one family at a time through collaborative social, educational and recreational programs. Since the birth of the Youth Center in 1952, this charity has been honored to have the opportunity to establish valuable partnerships within the community. The Youth Center takes deep pride in the stellar network of collaborators. The Youth Center fully acknowledges their critical importance in this organization's levels of current and future success.
The Youth Center is dependent on a strong spirit of volunteerism. Volunteers ages 3 and up are welcome. From working in the office and helping at the events to tutoring and Camp Shark volunteers, we have opportunities for everyone. Help out every day or once a year.