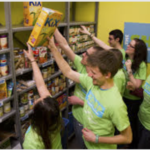 Website The Samaritan Center
The Pantry Volunteer is to assist our homeless drop-in center with in-kind donations management.
Requirements:
Be dependable and punctual.
Wear comfortable and appropriate clothing and shoes. Shoes must be close-toed.
Ability to lift 20lbs and to stand or squat for long periods of time is preferred.
Be self-directed, willing to take initiative, patient and have problem solving abilities.
Position Description:
The Pantry Volunteer comes in on Tuesdays or Thursdays to help with our pantry box preparation and distribution. This may involve sorting produce into bags, prepping/breaking down boxes, distributing groceries, signing in clients, and cleaning up. Please note that our pantry distribution is outside!
Pantry volunteers may also be asked to come in on an as needed basis dependent on the volume of in-kind donations received. The Samaritan Center relies on pantry volunteers to maintain an organized and up-to-date pantry. This requires ensuring items are unopened, placing them in the appropriate location, and regularly rotating goods based on date of expiration.
Support:
Masks and gloves will be provided. Training will be provided. Samaritan Center staff members are onsite for questions and concerns.