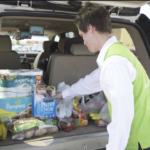 Website The Samaritan Center
The purpose of the Grocery Pickup Volunteer is to assist grocery stores in their kind giving to our pantry and clients.
Requirements:
Must be dependable and punctual.
Be courteous and personable when working with grocery store attendants.
Be self-directed, willing to take initiative, patient and have problem solving abilities.
Able to drive to transport food and lift up to 20 lbs.
Have a valid driver's license and insurance and pass a DMV background check.
Must obtain a food handler's license, covered by the Samaritan Center
Position Description:
This volunteer drives the Samaritan Center SUV, and picks up boxes of produce from 3-4 scheduled grocery/convenience stores. The volunteer will take the temperature of the items received and fill out the Meal Connect Store Poundage/Temperature Log, and then deliver the items to the Samaritan Center. This may take multiple trips back to the Samaritan Center because of the amount received and to maintain the temperature of refrigerator items.
Depending on the grocery store, there are different procedures and requirements the volunteer must abide by in order for the Samaritan Center to maintain its relationship with the grocer.
The shift may take longer or end earlier depending on the amount of stops scheduled that day. All stops are within Simi Valley.