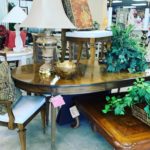 Website The ReNew Stores
100% of profits from The ReNew Stores go directly to supporting Acres of Hope. Our thrift boutiques in Roseville offer new and gently used clothes, shoes and accessories, as well as upcycled furniture, home decor, housewares and more.
If you are interested in volunteering with us, you can Download a Volunteer Application or pick one up at the store. Upon receiving your application, we will schedule a time for a volunteer interview. During the interview we will get to know you, learn about your talents and discuss the current store volunteer needs. This is also a great time for you to learn more about us and ensure this is the place for you to serve.