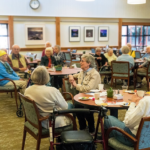 Website The Redwoods
Program Facilitation
Have a skill and passion you want to share?  From leading exercise classes, playing games and performing, to holding discussion groups, residents welcome opportunities for engagement.
Administrative Support
If you have skills in program development, data entry, publishing, fundraising, you name it — a gamut of administrative functions is available to those who want to experience what takes place behind the scenes.
Cyber Seniors
Help close the digital divide by sharing your knowledge of technology. From personalizing screen savers, Skyping with distant family, to iMovie voice-overs, residents' interests are as varied as they are.
Dining Services
Help keep those water glasses and coffee cups filled! Shifts are available 3 times a day, 7 days a week. This is a great opportunity for both short- and long-term volunteers.
Events & Parties
Be part of the fun and help host one of our many annual celebrations. From decorating and seating to serving and clean-up, our residents enjoy a festive party — as well the camaraderie of the volunteers.
Friendly Visitor
Come read, play cards, converse, or take wheelchair-bound residents for walks around The Redwoods campus. Most importantly, be ready to be surprised by the in-depth relationships you will develop.
Community Garden
Come work in the sunshine and fresh air! Get your hands dirty by helping tend to our beautiful vegetable, herb, and flower garden — the prolific Robert S. Scott Community Garden.
The Shop
Join our wonderful team of volunteers at The Shop at The Redwoods, our unique antique and consignment shop that raises funds to support The Redwoods.