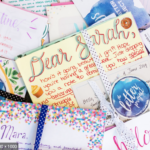 Website The Letter Project
We are a faith-based nonprofit. We write letters to girls around the world who are in need of extra love and support.
Our message is simple: we believe in you. We believe in the power of women supporting one another. We are rooting for you from all around the world. We're looking for Letter Writers! New requests are posted on our portal every Tuesday. You choose when and who you want to write to as your schedule permits.
Requirements:
Must be a girl/women who is at least 13 years old