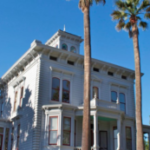 Website the John Muir National Historic Site
Do you like meeting new people? Sharing your love of history and John Muir with visitors from all over the world?
Our Visitor Center Docents are the first faces that visitor see when they come to John Muir National Historic Site (NHS).
We are looking for volunteers who can represent the National Park Service (NPS) and support our mission to preserve and protect history and natural beauty. Specifically, at John Muir NHS, we're preserving the legacy and history of John Muir, "Father of the National Park Service".
Visitor Center Docents provide customer service, make sales in the park bookstore and operate the cash register. They also introduce and present the 20 minute park film "A Glorious Journey".
Other duties include:
* Answer incoming phone lines and accurately routes telephone calls or relays messages.
* Distribute park literature and advise staff of shortages on park brochures, maps and other public handouts.
* Provide visitor orientation.
* Answer questions about the park and Agency in person, or on the phone.
Many of our current volunteers really enjoy working in the Visitor Center because of the traffic that comes through. Visitors come from as close as Martinez and as far away as Europe, Asia and Australia.
Minimum one year commitment with 8 hours per month. All docents must complete three 4-hour training modules led by NPS staff prior to commencement of docent responsibilities. Flexible scheduling options. The park is open to the public daily from 10:00 a.m. to 5:00 p.m.