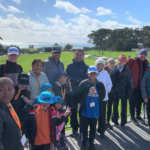 Website The First Tee of Contra Costa
Our Mission:
The mission of the East Bay Golf Foundation (a 501c3 non-profit organization) and The First Tee of Contra Costa is to impact the lives of young people by providing educational programs that build character, instill life-enhancing values and promote healthy choices through the game of golf.
Our Volunteer Assistant Coaches:
Assisting our Lead Coaches in delivering The First Tee Life Skills experience to juniors
Help ensure a safe environment for all our participants
Commit to coaching at least once a week for 2 hours for our 8-week sessions
Receive the necessary training. No golf experience is required!
Our Golf Course Locations:
Boundary Oak Golf Course, Walnut Creek
Buchanan Fields Golf Course, Concord
Diablo Creek Golf Course, Concord
Hiddenbrooke Golf Club, Vallejo
Lone Tree Golf Course, Antioch
Join us today! We look forward to meeting you!