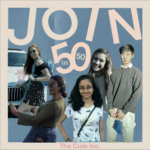 Website The Cure Campaign
50in50 is a national, community-based initiative to get Americans ages 13-18 active in their communities, working alongside The Cure Campaign team. The goal is to have one teen from every state, fifty youth activists in all, with a project based in their community. Whether that be local, regional or state-wide our members will decide a project based on their skills and interests honing in on cancer research funding and awareness. Our 50in50 members have regional guides that help them along the way, providing them with resources or anything else our members might need. To be flexible and respectful to the time of our members there is no set deadline for when their project must be completed by. We ask our members to set a goal for themselves. For example, Shreya from Arizona wrote over 200 cards for cancer patients. When they reached that goal, their project was completed! While The Cure team is working to pass federal legislation to increase the National Cancer Research Budget, we want to inspire youth all over the country to get active in their communities! These community service projects can manifest in cancer research pamphlets, volunteer work, fundraising, working with underfunded hospitals, etc. The overall goal of 50in50 is to provide hope to current cancer patients while simultaneously supporting youth advocacy.
For details about this opportunity, visit forms.gle.