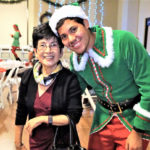 The City of Irvine
Irvine Senior Services at times provides opportunities for high school aged teens (age 14+) to volunteer. To help encourage responsibility, requests to volunteer must be made by the prospective teen volunteer, not the parent. In addition, all required paperwork must be completed by the volunteer. To ensure we are meeting the needs of our senior community, we ask that all volunteers commit to volunteering a minimum of three hours per week for at least three months. The majority of our volunteer opportunities are Monday through Friday between the hours of 10 a.m. and 2 p.m.
Prior to volunteering, all teens must attend a Volunteer Informational Meeting. Meetings are held on the third Wednesday of each month from 5–6 p.m. at the Lakeview Senior Center. Register for a Volunteer Information Meeting.
For questions or more information, contact Connie Larr at 949-724-6096 or clarr@cityofirvine.org.(link sends e-mail)
Note:  This opportunity will be available once the pandemic subsides.