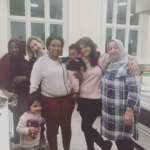 Website the Blossom Project
Blossom-Project is a non-profit organization working in US and Denmark to create better conditions for women experiencing homelessness, refugee, and women who has been a victim of sex-trafficking. We are operating in San Francisco, Marin, Berkeley, and Oakland, where we are tackling the issue of Period Poverty (being unable to afford female sanitary products) and helping homeless women by providing menstrual care packages.
At the moment we are expanding, so we are looking for a volunteerProgram and Outreach coordinator !
Duties and Responsibilities
Help the Outreach and program director organize Packing eventsHelp pack and deliver 300 bags 4 times a year to our partner organizations
Help create and send quarterly newsletter
Manage database of new subscribers and maintain email list
Assist with managing San Francisco workspace (getting mail, etc.)
Work load: 5-10 hours pr. week – sometimes less