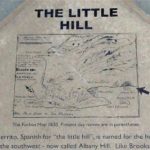 Website Tending the Ancient Shoreline Hill
If you missed the first bioblitz, here's another chance to become a citizen scientist as you help us record into iNaturalist all of the organisms we encounter on the hill, including plants, insects, fungi, birds. Fun activity for all ages. Great way to learn about nature. No experience necessary.
Load iNaturalist onto your smart phone before arriving. If you don't have a smart phone, come anyway and you can pair up with others who do.
More info: https://www.inaturalist.org/projects/city-nature-challenge-2019-san-francisco-bay-area
We'll gather at the far north end of Taft Ave before fanning out to all areas of the hill. Map of meeting place: https://www.google.com/maps/d/viewer?ll=37.89607299205394%2C-122.30490099999997&z=18&mid=1Mpi7Vk7MWFXrijgrXdS1LC6KVFBt9KK4
Rain cancels.