Anywhere
January 26, 2022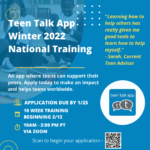 Website Teen Talk App
Interested in helping teens around the world? Join Teen Talk App!
Teen Talk App provides a free, anonymous, safe space for teens to request support from trained peers and learn from others with similar experiences.
The free app is available to download on iOS and Android devices for teens 13-19. Teen Talk App is recruiting teens (Freshman, Sophomores, and Juniors) NATIONWIDE to join the Winter virtual training program. The 50 hour training program covers mental health basic, crisis intervention, reflective communication, and self-care. The training prepares teens to take on monthly shifts where they are able to interact and support users. Trained teens are supervised by licensed clinician's at all times.
This is a great volunteer opportunity for an empathetic teen who wants to give back to their peers! Looking for volunteer credit? You will earn 50 hours by participating in the training and completed shifts count towards volunteer hours as well.
If you are the "therapist friend" or have had your own lived experiences with mental health, consider applying and joining the Teen Talk App team.
Applications are open NOW and must be submitted by Wednesday, January 26th.
Training will be held on Zoom this Winter. Training will take place on the following Saturdays from 10 am-2 pm PT:
2/12, 2/19, 2/26, 3/5, 3/12, 3/19, 3/26, 4/2, 4/9, 4/16
Visit www.teentalkapp.com to learn more and access the application link.
For details about this opportunity, visit vhub.at.