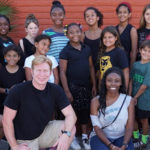 T3 Triple Threat Youth Mentors
T3 Triple Threat is in need of experienced voice, dance and acting coaches along with administractive, marketing & PR support for it's ongoing programs. T3 is a 100% volunteer driven orgnaization with a mission- TO INSPIRE EXCELLENCE, BUILD CONFIDENCE, FOSTER TALENT, UPLIFT & INSTILL A LIFE LONG APPRECIATION FOR THE ARTS. We believe that if we foster hard work, perseverance, preparedness along with an undying passion, we will enable our students to confidently pursue any path they choose.
**YOU** are a very important piece of the product we aim to put on stage, and we deeply appreciate any gift of time you are able to share with us.
Were in need of :
Director of Volunteer Support
Marketing & P.R.
Fundraisers
Experienced Dance, Voice, and acting coaches
Please have a clean record and be able to pass a background check. (Please leave a contact phone number. Inquires without a phone number will not be replied to.)
You name it, chances are we need it. Give your heart to the arts and become part of the fun today. To learn more or find out how you can help please visit http://t3triplethreat.com/ or call (619) SUN-ARTS
Requirements:
Background Check
Must be at least 16
Orientation or Training