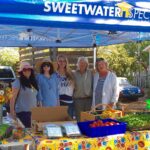 Website Sweetwater Spectrum
Become part of our community and experience the joy and gratification of enhancing the lives of Sweetwater Spectrum residents. You will be matched to an assignment based on your skills, talents and interests.
Resident Companion: Time Commitment- A minimum of 2 hours per week
Enhance the daily life of a resident who shares common interests. A Resident Companion will always work closely with a service care provider. Here are some examples:
Jogging
Cooking
Swimming
Art
Politics
Television and movies
Theatre
Farm Support: Time Commitment- A minimum of 2 hours per week
Do you like to get your hands dirty? Work with Farmer Luke and residents who share an interest in gardening.
Weed plants
Harvest produce and herbs
Help cook fresh vegetables
Assist with resident activity on weekly Farm Night
Work the Sweetwater Spectrum Farm Stand on Saturdays
Help assemble veggie boxes for sale
Farm Stand Assistant:
One-half day on Tuesday (10am-1pm).
Teach What You Love: Time Commitment: 1-2 hours a month for a minimum of six weeks.
Do you have a passion or skill you'd like to share with individual residents or groups? We're open to ideas!
Swimming
Yoga
Art
Spanish
Cooking
Teens 15 years and older can volunteer at Sweetwater Spectrum. Help is needed on the farm, assisting staff with activities and computer work