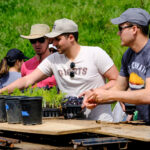 Website Sweet Farm Foundation
Thank you for your interest in volunteering with Sweet Farm! Whether it's one day a week or 2-3 days a month, it makes a difference for the animals and our environment. From caring for animals and getting your hands dirty in the garden to providing administrative support or helping with fundraising events, there are opportunities for everyone who wants to have a positive impact.
Most volunteer roles involve a weekly or bi-weekly commitment, with a minimum shift of 2 hours.
Once you fill out our volunteer application on our website, a staff member will reach out to let you know when the next scheduled volunteer orientation is taking place.
Anyone under 17 needs to be accompanied by a parent or guardian.