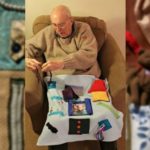 Website Suncrest Hospice
Suncrest Hospice is looking for volunteers to join the Suncrest Team as we provide excellent care and support to our hospice patients and their families in their homes and care facilities. We serve families in the Sacramento area including parts of Yolo, ElDorado and Placer Counties.
The philosophy of hospice care is to provide comfort and the highest quality of life that one can achieve at end of life. During this difficult time, when we can not have volunteers visit patients in person, there are other
ways in which you can provide comfort and encouragement to a hospice patient.
Write a note/card/postcard with some encouraging words of hope or a poem or Bible verse
Take a picture of your dog, cat, bird, rabbit and show them how proud you are of your fur baby!
Make some individual, incredible art to share
Sew a dementia patient fidget blanket ( google it for ideas!)
Send these items to Suncrest and we will deliver them to a hospice patient
Contact me if you'd like to help. There are so many who would benefit from hearing from you, and it just might make you feel better too ssanford@suncrestcare.com or call Sarah at 916-833-2728