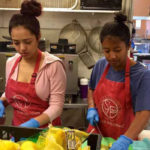 Website St. Vincent de Paul Society of Marin County
UPDATE: Preventing hunger during COVID-19 crisis
For the safety of our volunteers, staff and diners, the Free Dining Room has developed a new system of providing bagged lunches to our community that is in compliance with social distancing requirements and allows St. Vincent de Paul Society to continue feeding our neighbors without interruption. We also now have two hand washing stations in front of the dining room.
TOGETHER WE HAVE PROVIDED FREE MEALS DAILY SINCE 1981, AND WE WILL NOT STOP!
Hundreds of bag lunches are distributed each day at our 820 B Street location in San Rafael. Any individual or groups that can commit to making a minimum of 50 bag lunches is asked to email volunteer@vinnies.org to coordinate and meet this need.
SVdP is also working with the County of Marin to help get our most vulnerable clients without housing into motel rooms to protect them from the spread of Coronavirus (COVID-19). We will keep you updated on this and ask that if you are able to make a financial donation of any amount, please visit www.vinnies.org/give-help.
Please stay safe and be assured that our Vinnie's team is working around the clock to continue to improve and adapt our services for Marin's most vulnerable citizens.
The St. Vincent de Paul Society is proud to be a volunteer-driven organization. We depend on capable volunteers to assist us with delivering critical services to the people who come to us for help.