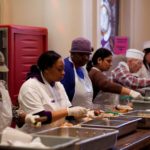 Website St. Francis Living Room
Come volunteer at the St. Francis Living Room and serve needy seniors a healthy breakfast! At the St. Francis Living Room, we serve 17,500+ nutritious breakfasts annually to low income and homeless seniors on weekdays, and we offer social, educational and recreational activities to them, too, in a warm, inviting environment. We treat our clients (and volunteers!) with dignity, kindness and respect. Volunteers help serve breakfast and assist those seniors unable to get through the buffet line. While ongoing volunteers are preferable, one time helpers are also welcome. We are open weekday mornings and volunteer shifts typically start at 8:15 a.m. and go until 10:30 a.m. We are located near Civic Center, easily accessible via Muni or BART.
Some duties for volunteers include: welcoming our guests, preparing and serving breakfast, assisting with clean up, calling bingo numbers and awarding prizes.
Come spend a morning or two with us and feel how rewarding it can be to help others.