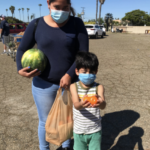 Website South Bay Community Services
Volunteers help SBCS expand and enhance programs and services for families in need. Becoming a volunteer is also personally and professionally rewarding. Not only will you create a lasting impact in the lives of others, but you will acquire valuable work experience and network with many people in your community.
As the coronavirus pandemic continues to affect the health and income of local families, SBCS volunteers are critical to ensuring that San Diegans in need have access to healthy food.
If you are looking for a way to give back during this difficult and uncertain time for many, consider volunteering to package and distribute food at one of our three weekly food distributions.