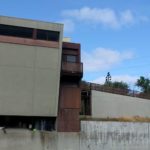 Website South Bay Clean Creeks
Join South Bay Clean Creeks Coalition (SBCCC) and friends/partner organizations for a housewarming of sorts as SBCCC moves into the former Ranger's Station / Visitor's Center in San Jose's Confluence Park, re-purposing the space as its Watershed Action Center. Since the Rangers left in 2008, the building and surrounding grounds have become a bit blighted.
To ameliorate the blight, inside, 20 volunteers will wash windows, and sweep and mop floors. Outside, 20-40 volunteers will turn the weeds under, then mulch, the 5000 square foot area later volunteers (November-April) will develop into a native plant and pollinator garden; 6-8 will plant 3 trees; 20-40 will clean trash from a stretch of Los Gatos Creek upstream from Confluence Point; 20-40 will clean trash from a stretch of the Guadalupe River upstream of Confluence Point; while another 20-40 will clean a stretch of the Guadalupe River downstream of Confluence Point.
Simultaneously with the blight-busting, there will also be socializing, learning and playing directed towards families with children replete with: a food truck or two; flycasting and/or catch and release fishing in the Guadalupe River; videos of salmon, trout, and beaver monitoring; art activities; learning tables; and music.
Volunteer activities begin at 9:00am and end around 12:00am or so. Socializing, learning and playing activities start at 9:00am and end at 1:00pm. Feel free to arrive or depart as you please. Event is sponsored by Google.