Anywhere
September 17, 2020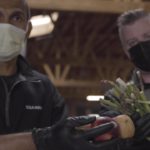 SoLa I CAN Foundation
As part of SoLa Impact's COVID-19 response, weekly food aid is delivered to needy families and tenants in South LA, particularly those 65yrs+ every Thursday from 9am to 12pm.
Since COVID-19 arrived, more than 400 households and 3,000lbs+ have been delivered. Volunteers are provided with PPE, participate in food aid assembly and deliver with a partner to S. LA residents. Strict social distancing protocols are enforced. This is a great way to help those affected by safer-at-home orders.
All volunteers must attend a virtual orientation and sign a volunteer waiver before volunteering.
Requirements
Driver's License
18+
Orientation/Training