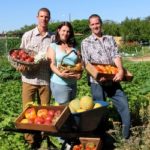 Website Soil Born Farms
Soil Born Farms is a center for food, health, and the environment located on the 55 acre American River Ranch in Rancho Cordova. As a non-profit, Soil Born works throughout Sacramento to grow food, mentor youth and future farmers, teach people how to cook and garden, create urban farms, preserve wild spaces, improve access to fresh produce, grow school gardens, and at the core, it is about making a difference.
Volunteer opportunities include: Year-round garden team, culinary arts, fruit tree harvesting and care, school garden support.
Contact Soil Born Farms to see what volunteer opportunities are available, as activities change seasonally.
Volunteers under the age of 15 must be accompanied by an adult.