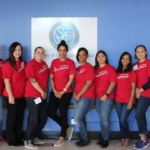 Website Society of St. Vincent De Paul Alameda County
The St. Vincent de Paul Free Dining Room serves a hot, healthy meal Tuesday-Saturday. Located in one of the most distressed neighborhoods in Northern California, the Free Dining Room serves nearly 600 meals on average per day. Join our team of volunteers to help feed those who are hungry. This opportunity is appropriate for groups of up to 15 people.
Volunteers will be asked to:
dish food
serve beverages
hand out trays to clients
wash and dry dishes
clean tables
assist with kitchen prep work
organize refrigerators or dry storage spaces
attend to all clients that we serve including families, young children, elderly, and disabled
Time: 9am – 1pm; shifts are available Tuesday – Saturday
Commitment: One time and ongoing volunteers are welcome
Volunteers will attend an orientation and receive training on their first day of service.
REQUIREMENTS:
– Must be at least 14 Orientation or Training
– 9am – 1pm Tuesday-Saturday
– Volunteers must be able to stand for at least two hours