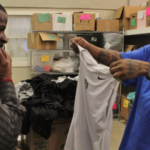 Website Society of St. Vincent De Paul Alameda County
Help manage our free clothing closet, and give fresh, clean clothes to those in need.
At St. Vincent de Paul's West Oakland Direct Service Campus we provide a number of services including giving people who are most in need free and clean clothes, socks, underwear, shoes, jackets etc.. Our services are open Tuesday through Saturday, and the clothing closet shift is 1pm-3pm.
As a clothing closet volunteer you will be working closely with our guests to ensure that they receive excellent customer service and feel that their needs are met. You monitor the clothing closet and help people to find what they need.
In addition you ensure that everyone follows the basic rules of the clothing closet and is treated equally.
REQUIREMENTS:
-Must be at least 16
– Orientation or Training
– One time or on-going for 2 hours