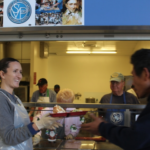 Website Society of St. Vincent De Paul Alameda County
The St. Vincent de Paul West Oakland Women's Center is located in one of the most distressed neighborhoods in Northern California and provides direct assistance to women and children in need. It is a safe and welcoming environment where women can come in for a warm shower, to do their laundry, use the toilets and feel that they are in a safe and welcoming area.
Volunteers will be asked to:
Greet clients as they enter the center.
Help to check-in clients.
Assist front desk with handing out towels, and hygiene items.
Assist with laundry services.
Replenish supplies.
Help to manage the baby room, where we give away children's clothes, shoes and diapers.
Time: Shifts are available Tuesday – Saturday between 9:30am am and 3pm.