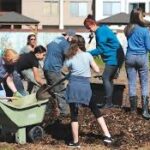 Website Simi at the Garden
One of the most notable humanitarian community projects provided by the garden is the "Sharity Garden", a volunteer sustained ½ acre community agricultural project, which grows and harvests healthy organic produce which is donated annually to charities such as the Simi Valley Samaritan Center.​
Simi at the Garden all-volunteer humanitarian agricultural farm has just topped the donation of 1,800 lbs. of fresh, organic, locally grown produce this season to the Simi Valley Samaritan Center, to help feed the many disadvantaged and needy  populations which the Samaritan Center serves. And there is still much more to harvest!
​To help volunteer on the weekdays with the Sharity Garden please contact us through the website listed.