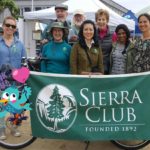 Website Sierra Club San Francisco Bay Chapter
Help us table about renewable energy in the East Bay! These events are very fun and a good way to engage with your neighbors about the services provided by the new energy provider.
East Bay Community Energy (EBCE), is the new local electricity supplier in Alameda County. EBCE will provide cleaner, greener energy at lower rates to the counties electricity customers. EBCE will reinvest earnings back into the community to create local green energy jobs, local programs, and clean power projects.
EBCE partners with the local utility, Pacific Gas & Electric (PG&E). They procure electricity from clean, renewable sources such as solar and wind on behalf of Alameda County residents and businesses. PG&E continues to deliver power, handle customer billing, maintain the power lines, and respond to new service requests and emergencies.